Latest News
(Nederlandstalige nieuwsbrief hier)
Latest News of Toos van Holstein
(for me art is travelling the mind)
e-mail toos@toosvanholstein.nl
web site www.toosvanholstein.nl
YouTube https://www.youtube.com/user/TOOSvanholstein
Toos van Holstein is also active on Facebook, LInkedIn, Wordpress, Instagram and YouTube
April 2021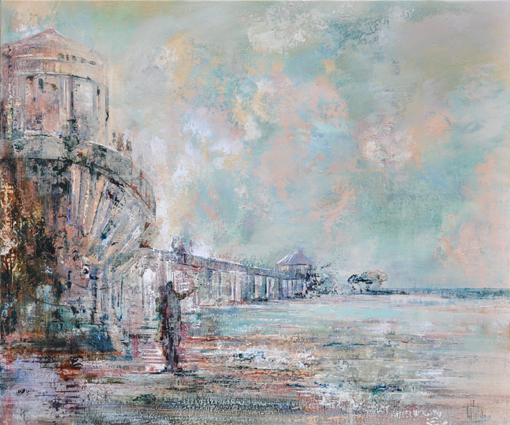 'Horizon (100-120 cm), oil panting by Toos van Holstein, now shown at gallery Àlafran (Diepenheim, the Netherlands)
New: Group exhibition with a part of ' The 70-Series and More, Edition 4' in Gallery Àlafran (Diepenheim, the Netherlands)
After the fabulous kick-off of the 'The 70-Series and More' in October 2019 the fourth edition of this travelling exhibition by Toos van Holstein took place during October/November this year in the old town of Diepenheim in the Eastern part of the Netherlands. After the finisage of this show is was decided that a part should stay in the gallery in combination with a group exhibition of other artists represented by Gallery Àlafran. This show is running now.
The new book 'TOOS VAN HOLSTEIN II for me art is travelling the mind' is released now
More than 200 pages with her art, her own stories and those of others about that art. A marvelous artbook of nearly 1,5 kilogram that can be bought for € 35. Interested? A mail to toosvanholstein@xs4all.nl is enough.
New: Toos van Holstein again in the Top-25 of most popular artists
In November it became clear, Toos van Holstein again is chosen in the Top-25 of the most popular Dutch artists in the renowned election of the Dutch Artist of the Year 2021. This position she got by a combination of voting rounds by an official art panel of about about hundred insiders of the Dutch artworld and the public. Something to be very proud of. Also because it confirms, just like in foregoing years, her position in the Dutch art world.
Toos van Holstein and her heARTseat
Some children are born with the so-called energy metabolism disease. A disease that causes that they cannot develop in a normal way and have a difficult childhood. Usually they also live much too short. In the Dutch university town Nijmegen a team is developing a medicine for these children. To generate money for their research the foundation Energy4All organises all kinds of events. A new manifestation is the HeartParade. A number of well-known Dutch artists, Toos van Holstein being one of them, has been asked to paint a heARTseat. All seats have been auctioned now and Toos is very proud to announce that her heARTseat has been bought by the director and initiator of the team that will bring this medecine on the market within a couple of years. Below a picture of Toos her seat and the new owners.
On YouTube you'll find here a video about the creation process of Toos' heARTseat (link https://youtu.be/S1QPWt88iA4).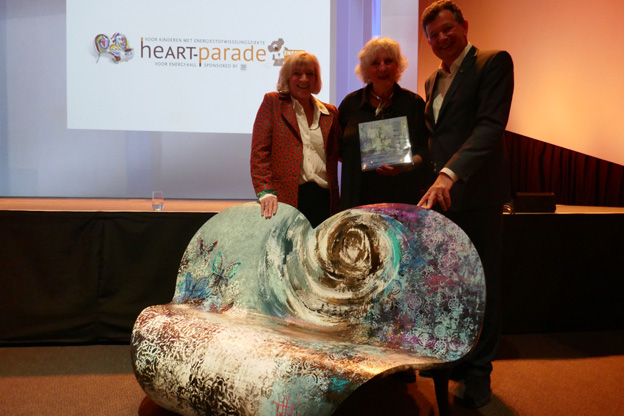 Art and Culture Route in Middelburg
In the historic hometown of Toos van Holstein every first Sunday of the month an Art and Culture Route is organized. About 40 ateliers and galleries in the medieval town of Middelburg are open to the public from 1-5 PM. So if you are in Holland during one of those Sundays you are kindly invited to visit the atelier of Toos van Holstein at the Korendijk 56 in one of the most beautiful old towns of the country of which the history goes back to around the year 1000 AC.
- See also the video's of Toos van Holstein on her own channel on YouTube
On this YouTube channel Toos shows several video's about her exhibitions, her digital art and a lot more. See here also TOOS-the movie. Click on TOOSvanholstein .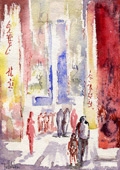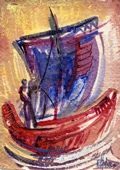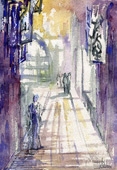 some examples of the new set of cards by Toos van Holstein
New set of cards
Because the old set of 12 cards of water colour paintings by Toos van Holstein is nearly sold out
she has made a new one. A few examples of these new cards, 11 cm by 15 cm, can be seen on top of this newsletter. They show the prints of a series of new mixed media painting on hand made paper, partly based on her stay as an artist in residence in Beijing. More information about this new set is found by clicking on the knobs 'Publications' and 'Cards & CD-Roms' on the English openings page.