Latest News
(Nederlandstalige nieuwsbrief hier)
Latest News of Toos van Holstein
(for me art is travelling the mind)
e-mail toos@toosvanholstein.nl
web site www.toosvanholstein.nl and www.toos.biz
Toos van Holstein is also active on Facebook, LInkedIn, Wordpress, Instagram and YouTube
July 2018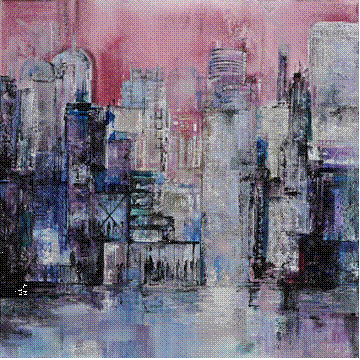 City sky, 110 cm-100 cm
Election of the Dutch Artist of the Year 2019
Traditionally on the first of July the list is published with the 90 nominees for the election of the Dutch Artist of the Year. For this election a jury of about hundred museum directors, art critics, art collectioners and art teachers bring out their personal choice of 20 artists. Based on the number of their votes for certain artists 90 nominees remain. And again Toos van Holstein was among them. This list is published on https://www.kunstenaarvanhetjaar.nl/verkiezing2019/ronde2/ where the public can bring out now its vote till 15 September. Then 20 artists remain for a new round.
Toos van Holstein and Mathilde Willink, the first Dutch society queen
Mathilde Willink (1938-1978) was the first Dutch society queen. As the muse and model of the famous Dutch magic realist painter Carel Willink (1900-1983), always dressed in extravagant clothes like a Lady Gaga avant la lettre, she was queen of the scene in Amsterdam in her years. Now her 80th birthday is celebrated in her town of birth Terneuzen in the province of Sealand, also the province where Toos van Holstein is living. Therefore she takes part with a triptych and an installation in two exhibitions about Mathilde in Terneuzen.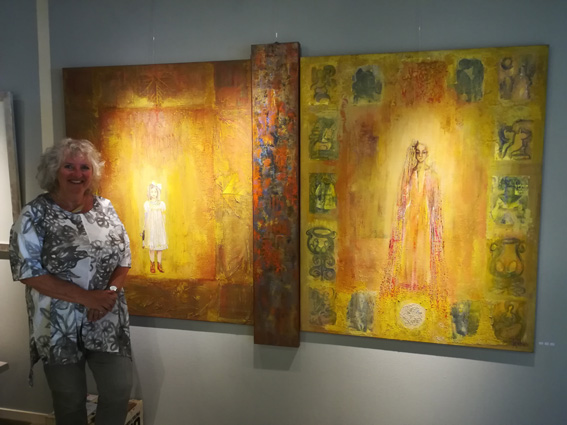 the triptych 'Extravaganza' by Toos van Holstein
Toos van Holstein and her HeartSeat
Some children are born with the so-called energy metabolism disease. A disease that causes that they cannot develop in a normal way and have a difficult childhood. Usually they also live much too short. In the Dutch university town Nijmegen a team is developing a medicine for these children. To generate money for their research the foundation Energy4All organises all kinds of events. A new manifestation is the HeartParade. A number of well-known Dutch artists, Toos van Holstein being one of them, has been asked to paint a HeartSeat. All these heart shaped seats will be auctioned next year after an exhibition tour through the country. Below a picture of the seat painted by Toos.
Toos van Holstein and her HeartSeat
Toos van Holstein again amongst the 25 most popular artists in the country
In the election for the Artist of the Year 2018 Toos van Holstein scored high again. After her nomination in a group of 90 artists and selection rounds as well by the jury as by the public she elected as member of the group of 25 most popular artists in The Netherlands. Again a confirmation of her position in the Dutch painters world.
Art and Culture Route in Middelburg
In the historic hometown of Toos van Holstein every first Sunday of the month an Art and Culture Route is organized. About 40 ateliers and galleries in the medieval town of Middelburg are open to the public from 1-5 PM. So if you are in Holland during one of those Sundays you are kindly invited to visit the atelier of Toos van Holstein at the Korendijk 56 in one of the most beautiful old towns of the country of which the history goes back to around the year 1000 AC.
- See also the video's of TOOS on her own channel on YouTube
On this YouTube channel TOOS shows several video's about her exhibitions, her digital art and a lot more. See here also TOOS-the movie. Click on TOOSvanholstein .
- Digital art by TOOS
Besides this website Toos now has a second one www.toos.biz. Just have a look and see the newest developments in her artistic career in which she uses the digital possibillities of our time. See and admire TOOS.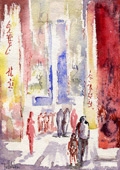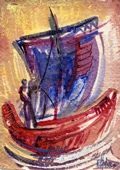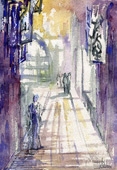 some examples of the new set of cards by Toos van Holstein
New set of cards
Because the old set of 12 cards of water colour paintings by Toos van Holstein is nearly sold out
she has made a new one. A few examples of these new cards, 11 cm by 15 cm, can be seen on top of this newsletter. They show the prints of a series of new mixed media painting on hand made paper, partly based on her stay as an artist in residence in Beijing. More information about this new set is found by clicking on the knobs 'Publications' and 'Cards & CD-Roms' on the English openings page.