New case of postcards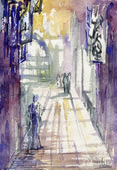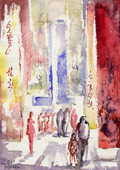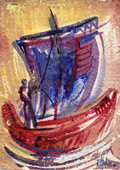 Recently Toos van Holstein published a new set of 12 different postcards of 11-15 cm. They are prints of a series of new small paintings on handmade paper of about 21- 15 cm. Here above you can see 3 examples.
The costs of the set are € 5, shipping costs are probably € 2-3 depending on the country of destination.
You can order the set by sending a mail to toos@toosvanholstein.nl
Another case of 12 postcards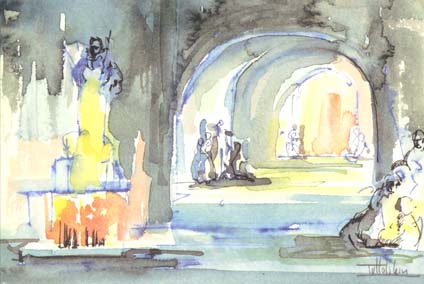 One the picture postcards from the collection of twelve
Some years ago Toos van Holstein has designed a case with twelve postcards with watercolour-pictures. The watercolours were painted especially for this occassion.
All postcards are different. They are suitable for framing, or even just to send them to your friends as congratulations-cards. Only a few cases are still available.
The cases are for sale for the price of $ 10 shipping costs included.
Two CD-Roms
About the work of Toos van Holstein CD-Rom's Part 1 and Part 2 have been published.
Part I (in Dutch, English and French language) contains 170 images of paintings and a lot of information about her work and the themes in her paintings. You will also find an article about the stonelithographs of Toos van Holstein.
Part II (for the moment only in Dutch) shows many new paintings, watercolors, bronzes and serigraphs. Compared to Part I another series of important themes in her work is commented with texts and slide shows. Also found are video fragments and articles about the process of making bronzes, stonelitographs and serigraphs.
Each CD costs twelve US dollars, shipping included.
You can order cd's and postcards by sending an email to: .
---